Courses by Vancouver First Aid are run in large classrooms that enable students to have enough room to practice and gain hands on experience to complement the theory they learn during the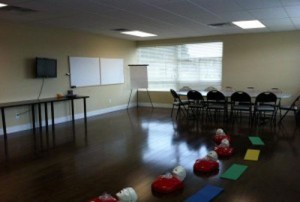 course. Practice equipment used by emergency medical practitioners are supplied to the students during each course to give them the top quality and real life practice they require to be ready for any emergency in the real world. Our classrooms can be found at the following locations:
East Vancouver – 1773 Kingsway – This location features a large training classroom that offers all St. Mark James first aid and CPR courses, re-certifications and Food Safe Courses. For more information about courses or registration visit the course page of your choosing from the main or side menu. Close to skytrain, this location is convenient for all students of Vancouver, Richmond, and Burnaby.
Surrey Newton – 13569 76 Ave – Located in the heart of the Surrey Newton business district, this classroom is easily accessible with plenty of free parking and eating options. Located just off King George Blvd, this location easily accommodates large groups of students and is disability accessible.
Coquitlam – 927 Brunette Ave, Coquitlam, BC V3K 1C8 -This location is on the corner of Brunette and Lougheed. A short walk from Braid skytrain station, this classroom provides plenty of free parking. The entrance is located at the rear of the building. Plenty of amenities are located nearby.
Interested in courses elsewhere? We are available to travel anywhere within the lower mainland and fraser valley. Our instructors can easily teach any course at your business, community center, or other facility. Please feel free to contact our office for more information on private classes.
To register or to view more information about each location visit the location pages from the main menu. Registration and location selection can be completed through the course registration pages viewed from the main or side menu.