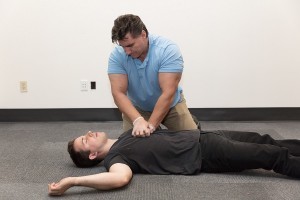 Vancouver First Aid Ltd provides several first aid classes.  First aid  courses offered include emergency first Aid, emergency child care provider and standard first aid. Our CPR training includes classes in CPR levels A through C and CPR HCP. These emergency rescue courses are offered regularly throughout the lower mainland. Vancouver First Aid offers nationally accredited awards by St Mark James Training. To enroll in a class select the first aid or CPR course in the menu bar. For more information about the first aid or CPR course available to you, continue through the page.
Occupational First Aid Level 1
We proudly offer WorkSafeBC approved occupational first aid level 1 (OFA level 1) courses. This 79.99 course takes 8 hours to complete and is offered at all of our training centres. Register today to reserve your spot.
Emergency / Basic First Aid
One of the most popular first aid courses is emergency first aid. This course, also referred to as basic first aid,  is an 8 hour course designed for people wanting a general knowledge of first aid and CPR. Topics include legal implications, activating EMS, scene assessment, AED introduction, CPR level A, respiratory emergencies, shock and circulatory emergency's such as heart attacks and strokes. For more information or to register for a emergency first aid course / training click this link.
Standard / Intermediate First Aid
Standard First Aid, also referred to as intermediate first aid, is a 14 hour course involving more comprehensive first aid and CPR. This course includes all the topics covered in EFA and training involving Burns, soft tissue injuries, sprains, strains, spinal injuries, seizures and a number of other emergency. SFA training includes CPR level C. For more information or to register for a standard first aid training course click here.
Childcare First Aid
Vancouver First Aid also offers Emergency Childcare First Aid courses and Standard Childcare first aid courses. Emergency Childcare first aid is required for daycare and childminding services in the lower mainland. Training includes Cardiopulmonary Resuscitation on children and infants. The Emergency Childcare first aid courses are 8 hour courses that we offer at cheap and competitive prices. Our Standard Childcare first aid course is a comprehensive first aid course that is 16 hours in length.
First Responder
We also offer  first responder training. This is a 40 hour course that is designed for individuals that want to be or that are first responders. This is a comprehensive course that is typically taught over the course of two weekends.
Locations
Vancouver First Aid caters to all municipalities throughout the Lower Mainland. Our first aid and CPR courses are offered in training centres in Vancouver, Burnaby, Richmond and Surrey. We have two new training locations in Surrey including in Newton and Whalley. Visit our locations page or select your first aid course below to see a list of all the upcoming classes in your area.